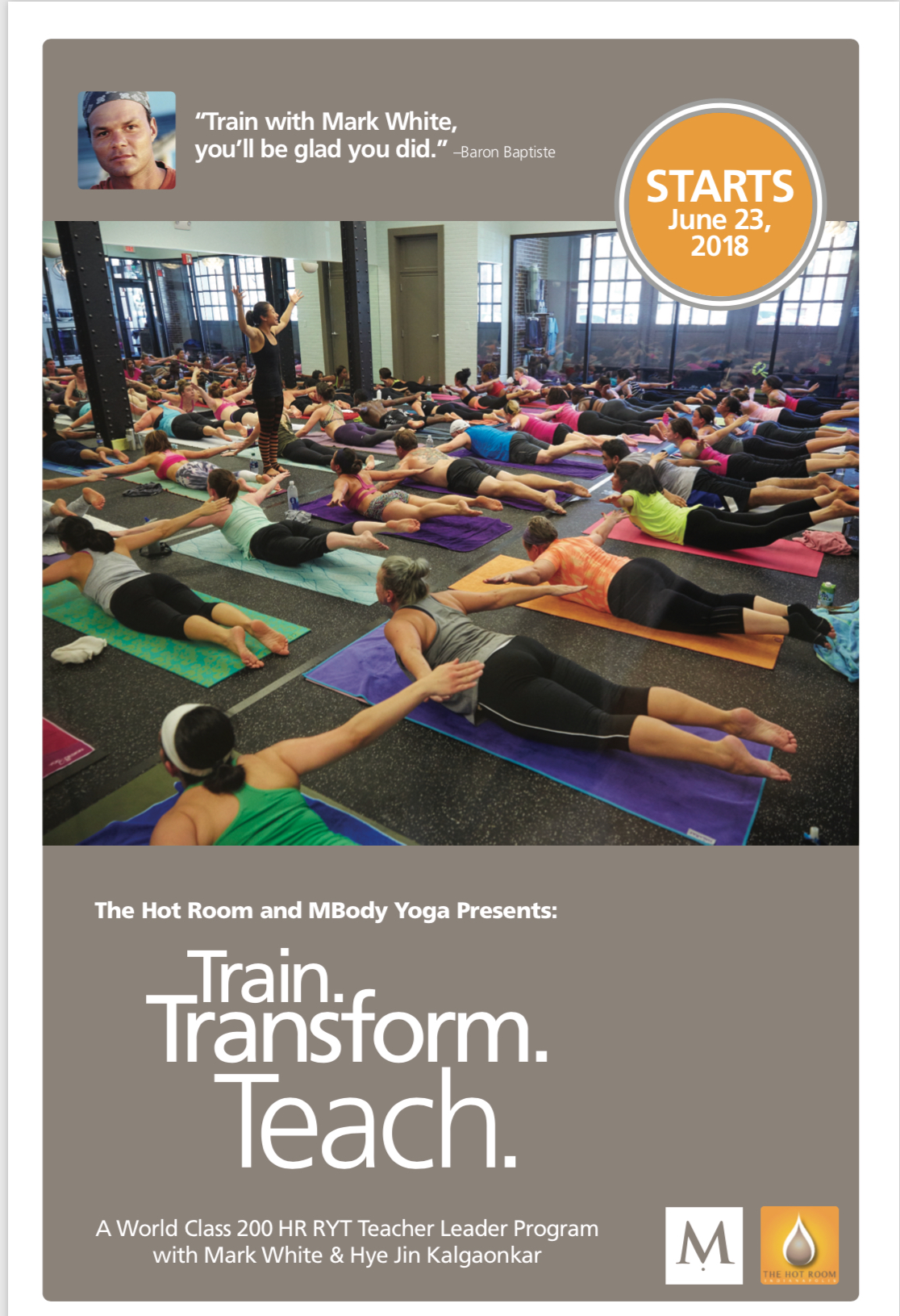 2018 Hot Power Vinyasa Teacher Training
June 23 - November 11, 2018


Join Hye Jin Kalgaonkar and Master Baptiste Instructor, Mark White, for the only Hot Power Vinyasa training in Indianapolis inspired by Baron Baptiste.
Our 200-Hour RYT teacher certification program will give you the tools, hands-on experience and confidence needed to teach a dynamic and challenging Hot Power Vinyasa class based upon the teachings of Baron Baptiste. This program is for new and experienced teachers who are ready to tap into their own inner power. This is a unique opportunity to learn how to skillfully meld technical knowledge with authentic radiance into your style of teaching. This program will focus on all aspects of teaching and living the principles of yoga within a contemporary context and language. This is a rare and exclusive opportunity to contribute to your own growth as a teacher and as a person. We invite you to experience learning how to teach Power Vinyasa Yoga at a whole different level.

Yoga Alliance Accredited School
The Hot Room in partnership with MBody Yoga is a registered school with Yoga Alliance.
Trainees who complete our 200 hour program are eligible to register with Yoga Alliance as a Registered Yoga Teacher – RYT 200.


DATES:

Saturday, 8:00 am – 8:00 pm
& Sunday, 7:00 am – 5:30 pm
June 23-24
July 14-15
August 4-5

August 25-26

September 15-16

September 29-30

October 20-21

November 10-11


Areas of Focus
How to design and teach a challenging power vinyasa yoga class
Basic anatomy and physiology
The breakdown, alignment, modifications and sequencing of postures.
How to assist, evaluate bodies physically and emotionally and prevent injuries.
Ujayii and Pranayama breathing techniques to incorporate into your class.
Yoga roots or beginnins and compare/contrast Eastern and Western practices.
The lifestyles and ethics for yoga teachers.
Effective presentation and communication skills to teach to different levels.
The business of yoga and how to open your own studio.
Inside the Experience
Curious to know what an MBody Academy Teacher Training Program at the Hot Room is all about or if it's the right fit for you? Listen in to the video testimonials as graduates from the Hot Room share their journey, stories, and most importantly, the untapped possibilities awaiting you.
Instructors
Hye Jin Kalgaonkar & Mark White
Yoga School Catalog
Catalog

PRICING INFORMATION

$3,400 per person

$3,000 early bird discount if paid in full by 5/23/2018
Application Fee (deposit)
$500.00 (applied towards tuition, non-refundable)
The Hot Room Payment Plan Available:
Payment plan available through studio with 10% financing fee ($320.00). Payment plan must be paid in full by October 31, 2018.
Paypal Financing Available:
6 months - No payments and No Interest
Inquire at : 317-218-3728


LOCATION:

THE HOT ROOM® INDIANAPOLIS

305 East New York Street - Downtown
3855 East 96th Street - Uptown
Terms and Conditions
Space is limited. Register today!
Full payment before: October 31, 2018
You will be contacted once your application is approved with payment details.
To confirm your space, full payment must be made.
All fees are payable by cash, personal check or credit card (AMEX, VISA & MC) or Paypal.
Payment plans are available. All payment plans will be scheduled and auto drafted.
Refund / Cancellation Policy
Student will receive a full refund (less deposit) if cancellation occurs within (14) days of the the start of the training program.
Deposits are non-refundable.
No refunds will be made after program start date.
If you miss a payment, you will not be allowed to participate in the following weekend until payment has been made.
Financial Aid
Details available upon request
For more information email info@indyhotroom.com
<<

Schedule for Fri Nov 16, 2018

>>
Fri Nov 16, 2018
Class
Instructor
Signup For our Newsletter