Hye Jin Kalgaonkar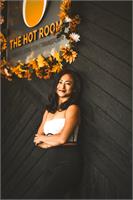 Hye Jin Kalgaonkar instructs the following:
A 90-minute class that incorporates a run/walk outside, hot pilates, and a hot power vinyasa flow. Bring running shoes, mat, towel, and water.




The Original Hot Yoga - 26 postures and 2 breathing exercises. The most therapeutic, healing, and physically challenging workout you have ever done. At the end of 60 minutes, you will have worked your entire body from the inside out. Come in and see how good your body is designed to feel.





Inferno Hot Pilates is a powerful class incorporating High Intensity Interval Training and Pilates exercises. Burn calories and create long, lean muscles.




A vigorous class consisting of a series of postures that flow together. This cardiovascular workout focuses on strength, balance and breath while toning the entire body.



Signup For our Newsletter