Caroline Escobar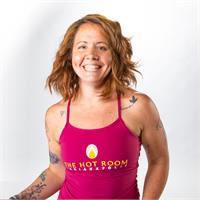 I found Bikram yoga in 2011 following a pretty severe CrossFit injury that resulted in surgery. I was told yoga was the only physical activity I was permitted to do during my recovery. Someone I worked with suggested I give Bikram yoga a try given I enjoy a challenge. Walking out of my first 90 minute class, I was in love and my life was forever changed. The intensity of the room mixed with the deep therapeutic stretching and compressions, I was hooked and finally understood that saying, "being comfortable in the uncomfortable". I knew one day I would teach this, this yoga became my passion and saving grace in my life and I wanted to share that with the world.
Fast forward to 2017. The Hot Room partnered with Sterling Hot Yoga Works and finally brought the opportunity of a lifetime right to my backyard, my home studio! Graduating in February 2018, my dreams had come true. After years of having my persistence and patience repeatedly tested, I am now a certified Original Hot Yoga Teacher! I also have the amazing opportunity to work the front desk at both studios, which keep me in constant contact with this amazing yoga community in Indianapolis.
I always tell new students to come with an open mind. Step into that room trusting that we are holding space for you and the body you have today. Any BODY can do this yoga, so I invite you to come and allow it to change your mind, change your life. Come see me, I'll be holding space just for YOU! Namaste!
Caroline Escobar instructs the following:
The Original Hot Yoga - 26 postures and 2 breathing exercises. The most therapeutic, healing, and physically challenging workout you have ever done. At the end of 60 minutes, you will have worked your entire body from the inside out. Come in and see how good your body is designed to feel.



Signup For our Newsletter