Laura Burdick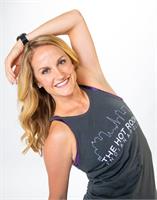 I am the Studio Manager for The Hot Room as well as an Original Hot Yoga, Inferno Hot Pilates, and Hot Power Vinyasa teacher.
My personal and professional life is about pursuing health and happiness for myself and others. As the Studio Manager and a teacher, I am able to share that with everyone that walks through our doors. I have been practicing Original Hot Yoga since 2011 and loved every minute of my first class (except I thought camel was awful). After my first class, I knew I would be a lifetime practitioner but was unaware of just how much of my life would be dedicated to the powerful series that makes up the 26 postures and 2 breathing exercises.
I completed my training in Summer 2016 through Sterling Hot Yoga Works. Since the Original Hot Yoga training, I have completed a 200-hour training in Baptiste-style Vinyasa and Inferno Hot Pilates certification. In addition to teaching and managing the studio, I am a Certified Health Coach and lead many total well-being initiatives at The Hot Room via my own business, Stride10 Coaching, LLC.
Laura Burdick instructs the following:
The Original Hot Yoga - 26 postures and 2 breathing exercises. The most therapeutic, healing, and physically challenging workout you have ever done. At the end of 60 minutes, you will have worked your entire body from the inside out. Come in and see how good your body is designed to feel.




Hot Power Vinyasa class with weights - Hot Power Sculpt! Your favorite hot power vinyasa flow with music and weights to enhance strength. Come experience your vinyasa practice in a new powerful way!




Inferno Hot Pilates is a powerful heated class incorporating High Intensity Interval Training and Pilates exercises set to the best playlist! Burn hundreds of calories and create long, lean muscles. High intensity, but low impact so it is accessible to anyone! The most fun you will ever have while working out!




Join us for the Inferno Hot Pilates HIIT class that you know and love in just 45 minutes!



Signup For our Newsletter