Yin Yoga (60 min)
This class is taught by: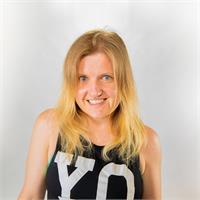 I have been practicing yoga for several years, and took my first Baptiste inspired 200HR training at Urban Body Yoga in Fort Wayne, Indiana. I joined The Hot Room in 2017, ready to grow and learn about the Bikram practice and the wonderful classes The Hot Room has to offer. I am now trained in Inferno Hot Pilates and will be taking the Sterling Hot Yoga Works Teacher Training at The Hot Room this November (2017). I love learning. I am a student in Health Informatics at IUPUI where I develop methods and tools to help people manage health. I have a passion for animals, food, music, and movement. I love to connect with others and learn about them, and what creates freedom of communication and self-expression. I practice yoga because movement and meditation allow me to access joy, bringing lightness, compassion, acceptance, and purpose into my daily life. I teach because I love to share this with others. The classes I currently teach at The Hot Room are Hot Power Vinyasa, Inferno Hot Pilates, and Yin.
Yin yoga is a beautiful way to compliment your yang practice. It focuses on the connective tissues such as ligaments, bones and even the joints of the body that are not usually exercised. Adding some yin to your yang ☯ for a harmonized balance. Beginners are welcome!
Upcoming classes:
Sign Up

Sun

Sep 23 6:00 pm - 7:00 pm

with

Carly

Daley




Sign Up

Fri

Sep 28 7:30 pm - 8:30 pm

with

Kylie

Williams




Sign Up

Sun

Sep 30 6:00 pm - 7:00 pm

with

Kylie

Williams




Sign Up

Fri

Oct 05 7:30 pm - 8:30 pm

with

Kylie

Williams




Sign Up

Sun

Oct 07 6:00 pm - 7:00 pm

with

Carly

Daley




Sign Up

Fri

Oct 12 7:30 pm - 8:30 pm

with

Kylie

Williams




Sign Up

Sun

Oct 14 6:00 pm - 7:00 pm

with

Carly

Daley




Sign Up

Fri

Oct 19 7:30 pm - 8:30 pm

with

Kylie

Williams




Sign Up

Sun

Oct 21 6:00 pm - 7:00 pm

with

Kylie

Williams




Fri

Oct 26 7:30 pm - 8:30 pm

with

Kylie

Williams




Sun

Oct 28 6:00 pm - 7:00 pm

with

Carly

Daley




Fri

Nov 02 7:30 pm - 8:30 pm

with

Kylie

Williams




Sun

Nov 04 6:00 pm - 7:00 pm

with

Carly

Daley




Fri

Nov 09 7:30 pm - 8:30 pm

with

Kylie

Williams




Sun

Nov 11 6:00 pm - 7:00 pm

with

Kylie

Williams




Fri

Nov 16 7:30 pm - 8:30 pm

with

Kylie

Williams




Sun

Nov 18 6:00 pm - 7:00 pm

with

Carly

Daley




Fri

Nov 23 7:30 pm - 8:30 pm

with

Kylie

Williams




Sun

Nov 25 6:00 pm - 7:00 pm

with

Carly

Daley




Fri

Nov 30 7:30 pm - 8:30 pm

with

Kylie

Williams



Signup For our Newsletter